Treating a recurring chest infection
A health-conscious patient presents with recurrent chest infection. What's the underlying cause?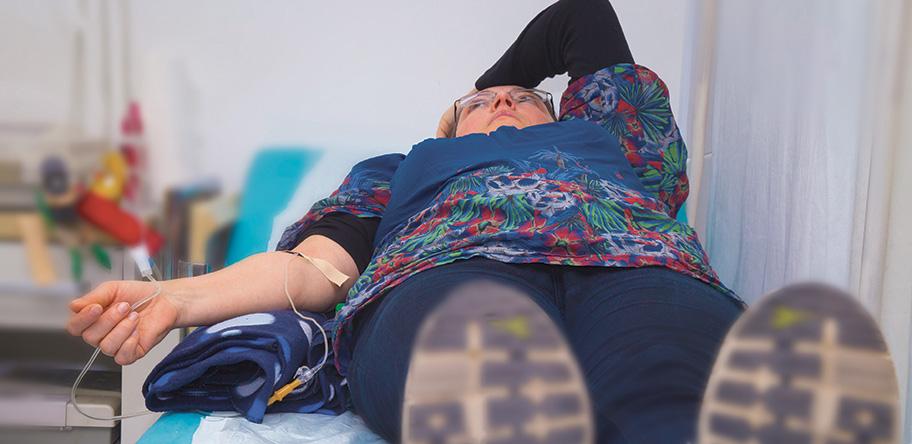 Jan is a 48-year-old teacher's assistant at the local state high school. She developed type 1 diabetes as a teenager and was recently found to have autoimmune hypothyroidism.
In childhood, she had asthma, but has not required inhalers for some years and has never been hospitalised with it. She is very health conscious and manages her diabetes well.
One month ago, she developed a chest infection. Jan required hospital admission and recovered well with intravenous antibiotics.
Now she presents having just been discharged from the same hospital with a second chest infection that again required intravenous antibiotics. Examination of her chest is now unremarkable.
The hospital discharge letter states that her chest X-ray showed minimal signs, but her sputum grew pneumococcus, sensitive to penicillin.
Jan is a non-smoker and has annual influenza vaccinations.
Her husband and two adolescent children are fit and well.
You are concerned as Jan does not appear well.
On further examination, Jan has widespread minor and painless lymphadenopathy.
Her tonsils are small and she does not complain of a post-nasal drip or of choking attacks.
She does, however, mention having several attacks of diarrhoea over the past three months, but these always resolved and were blamed on a "tummy bug" at school.
Investigation
Her respiratory function tests are normal with an FVC/FEV1 ratio of 0.8 and values within range for age, gender and height.
A high-resolution CT of the chest is unremarkable, there is no anatomical defect and no evidence of atelectasis or fibrosis. Swabs from the nose, throat, skin, and perineum and an MSU all fail to culture pathogenic organisms.
Pathology demonstrates her haemoglobin is 97g/L (normal 119-160g/L), WCC 12.4 x 109/L (normal 4.0-11.0 x 109) and platelets 245 x 109/L (normal 150-450 x 109/L).
Blood film is normochromic normocytic, iron studies are normal, as are B12 and red cell folate. Liver function tests reveal normal bilirubin and enzymes, but a low globulin of 15g/L (normal 23-39g/L). Renal function and electrolytes are normal.
After discussion with a haematologist, complement levels (C3, C4 and CH50) are requested, which prove normal. Jan's electrophoresis is normal and a bone marrow biopsy performed by the haematologist is also normal.
Serology for hepatitis C and HIV are negative. Jan has been immunised against hepatitis B.
Additional investigations prove more revealing. Immunoglobulins analysis demonstrates IgM 0.1g/L (normal 0.35-2.42g/L), IgA unrecordable (normal 0.85-4.99g/L) and IgG 3.1g/L (normal 6.1-16.16g/L).
Subsequent testing shows that she fails to produce an IgM or IgG response to polyvalent pneumococcal vaccination.
Management and discussion
Jan has common variable immunodeficiency (CVID), which is most likely secondary to viral infection. Acquired immunodeficiency usually presents as recurring infection.
There are many potential causes of the condition. Jan's extensive investigations have ruled out most of the common alternatives.
In cases presenting with recurrent chest infection, it is important to first exclude a new anatomical defect that may allow infection to recur by altering the normal clearance of secretions.
CVID is rare, but is more common in patients with autoimmune disease. Treatment is with regular infusions of pooled immunoglobulin, which is obtained from the blood transfusion service or from commercial sources.
The size and frequency of the infusion is generally determined by the individual patient response, determined by regular measurements of immunoglobulin levels before and after infusion.
Patients with CVID are at risk of infection and therefore immunisation against pneumococcus, haemophilus, influenza and meningococcus are recommended even though the antibody production response may be poor.
Immunodeficiency is often thought of only in terms of susceptibility to infection, however, this is a much more complex phenomenon requiring immune surveillance for developing neoplasia.
These patients are also at risk of developing lymphoma and other malignancies in later life.1
Progress
Jan's ideal infusion regimen was quickly established, based on her immunoglobulin levels after treatment. She had no further episodes of chest infection or diarrhoea.
More than 11 years after diagnosis, she developed gastro-oesophageal reflux and on endoscopy was found to have a malignant gastric ulcer.
This was fortunately amenable to treatment by repeated endoscopic surgery and she now remains in remission two years later.
---
Dr David Bossingham is a retired rheumatologist and associate professor at James Cook University College of Medicine and Dentistry, Queensland.
Reference:
Autoimmunity Review 2014; 13:858-64.
Login to see the rest of this article