An unusual case of syncope hours after a fall
Why is this patient with obesity fainting after falling on his buttocks?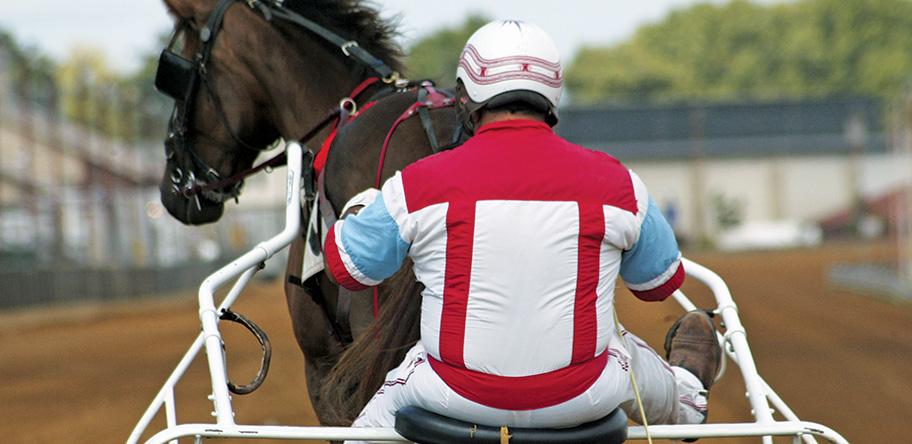 Mike, a 29-year-old man, was brought in by ambulance to the ED of a regional base hospital following a syncopal episode.
Seven hours earlier, he had fallen from the cart of a harness racing horse travelling about 40km/h, landing on his right gluteal region. There was no head strike associated.
Mike attended a nearby urgent care centre shortly after the fall. He was found to have a large gluteal haematoma, with no evidence of associated bony injury.
He was otherwise well and haemodynamically stable, and was discharged.
Mike then returned to the show and fell asleep in his horse float. He woke three-and-a-half hours later and had a syncopal episode on standing.
Mike was unconscious for a few seconds only, but when he tried to stand again, he became dizzy.
An ambulance was called and 500mL IV Hartmann's solution was administered in transit to the local regional hospital.
History and examination
Mike was conscious on arrival in ED. On further questioning he reported no past medical history of note. He was on no regular medications and had not taken any OTC analgesia following his injury.
On examination, Mike's supine blood pressure was 121/56mmHg, and heart rate was 92bpm. Upon standing, he became pale and his blood pressure dropped to 66/34mmHg.
Mike had a BMI of approximately 30. A 20cm by 20cm contusion was noted on the right buttock. He also had a superficial graze to the right elbow, but no other injuries.
There was no decreased range of movement in the hip, pelvis and lumbar spine, and lower limb power and sensation were intact.
The remaining examination was unremarkable, including ECG. A bedside ultrasound revealed a subcutaneous fluid collection in the right gluteal region, presumed to be blood.
Chest and pelvic X-ray were unremarkable. An FBC was normal, with a haemoglobin of 133g/L (normal >130g/L). Urea electrolytes and creatine were normal, as was venous blood gas.
Management
Mike was admitted by the surgical team for observation. He received 1L of IV Hartmann's solution in the ED and tolerated 500mL of oral fluids.
Overnight, his supine blood pressure continued to decrease to a nadir of 77/35mmHg, triggering a rapid response team call.
Mike's BP stabilised following a 500mL fluid bolus and another 500mL given IV over the next three hours.
The overnight BP drop precipitated further imaging with a CT of the pelvis performed the following day.
This confirmed there was no fracture and no active bleeding into the existing contusion (see figure 1).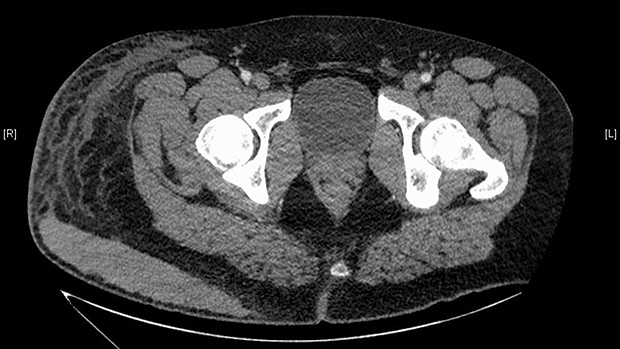 Figure 1. CT scan demonstrating a 20cm x 4cm x 16cm (approximately 1280cc) axial superficial haematoma of the right buttock region, with no associated pelvic fracture.
 
Mike's BP remained stable and within normal range. A progress FBC the day after admission revealed his haemoglobin had dropped to 102g/L.
Mike was discharged three days after presentation. His BP had normalised and his haemoglobin stabilised at 95g/L. No transfusion was required.
He was recommended to take oral iron and follow-up with his GP.
Discussion
Syncope is a common ED complaint, representing 0.35-5% of presentations.1
In the rural Australian context, the most common causes of syncope presenting to the ED are easily identified and treated: vasovagal episodes, dehydration and hypotension.1
The challenge for the clinician is to exclude more sinister or complex diagnoses, such as seizure, pulmonary embolus and cardiac arrhythmia.2
Given this man's injury pattern, another cause in this case could have been rupture of a pelvic or gluteal artery, which may present with both a similar mechanism, asymptomatic interval and also in the absence of a pelvic fracture.3-5
This case also illustrates the difficulty in estimating soft tissue injury in the bariatric population; what appears to be a minor haematoma on clinical examination can contain extensive sequestered blood.
An informal bedside ultrasound may have allowed for better estimation of blood loss, and likelihood of hypotension and anaemia.
In this patient a 1280cm3 contusion represented around 25% of his blood volume.
Even taking into consideration that bariatric patients have larger circulating blood volumes, this would be consistent with Mike's measured 29% haemoglobin drop (from 133g/L to 95g/L) over his admission.
For perspective, this corresponds to Class II hypovolaemic shock per EMST/ATLS guidelines.6
The management of bleeds such as this remains somewhat contentious, as the medical literature focuses largely on management of bleeding associated with surgery or bleeding disorders.
Application of ice and elevation makes sense, and is consistent with basic first aid principles.7
Tranexamic acid is proven to reduce blood loss associated with trauma, post-partum haemorrhage and surgical procedures, but its role in soft tissue haematomas has not been specifically evaluated.8,9
Current recommendations are that all patients who are at risk of death due to non-specific traumatic bleeding be treated with tranexamic acid within three hours of the injury.10,11
Though it is unclear which clinical/ultrasound findings indicate potential lethality in a patient with no comorbidities, this report suggests nevertheless that tranexamic acid should be considered in a large contusion such as ours with the potential for haemodynamic compromise.
---
Ashley Heyworth is a final-year medical student at the University of NSW.
Dr Jerry Gill is an emergency medicine consultant who practices in Port Macquarie, NSW.
Acknowledgements: Associate Professor Gabriel Lau and Dr Nigel Peck. The authors have no competing interests to disclose.
References on request.
Login to see the rest of this article