What's the cause of Judith's atypical femoral fracture?
A sudden snap at 'the dreaded black line'.
Judith, a normally sprightly independent 73-year-old woman, presents initially with a three-month history of constant anterior right thigh ache.
Relevant past medical history includes rheumatoid arthritis currently in remission and osteoporosis — for which she had taken alendronate for five years, followed by a two-year 'drug holiday', and more recently, five years of denosumab. 
An X-ray demonstrates a stress fracture in the lateral cortex of her right proximal femur (figure 1).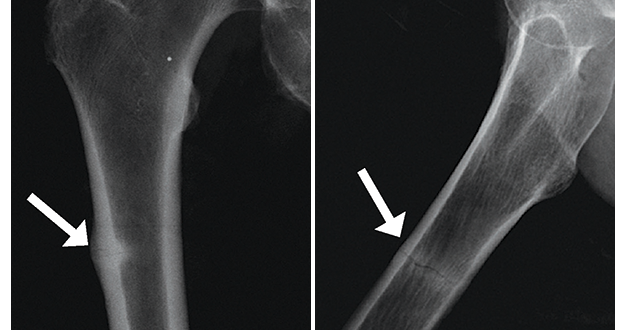 Figure 1. Stress fracture of the lateral cortex of the right femur. Note the endosteal and periosteal reaction (arrow, image on left) and radiolucent line, also known as the 'dreaded black line' (arrow, image on right).

Judith is managed conservatively with analgesia, physiotherapy and partial weight-bearing. 
Judith's pain does not improve. Three months later, she is brought into the ED with sudden-onset severe right hip pain, deformity and inability to walk after a minor pivot on her leg.
X-rays (figure 2) show a non-comminuted transverse proximal femur fracture with thickening of the lateral cortex due to endosteal and periosteal reaction.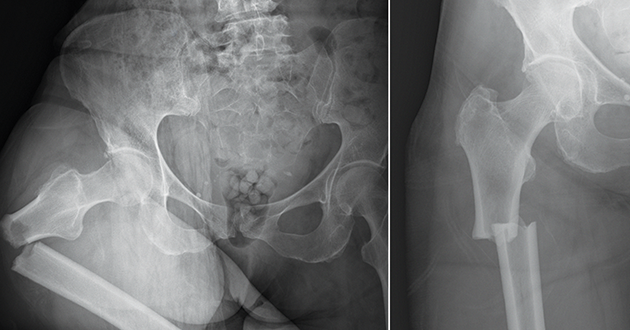 Figure 2. Transverse proximal femur fracture, pre- and post-reduction.

Diagnosis
Judith is diagnosed with an atypical femoral fracture associated with previous bisphosphonate and current denosumab exposure.
Management
Judith receives a femoral nerve block and the fracture is reduced. She then has emergency surgery, for insertion of an intramedullary nail.
She is advised to cease all antiresorptives. Her calcium intake and vitamin D levels are optimised. The contralateral limb is imaged. 
She is referred to a rheumatologist for ongoing care including consideration of teriparatide. 
Discussion
Atypical femoral fractures are a rare occurrence and have a strong association with prolonged bisphosphonate use.1
There are also reports of an association with denosumab, which also suppresses osteoclast activity.2
It is proposed that these antiresorptive medications inhibit bone turnover, allowing for microdamage to potentially accumulate and develop into a stress fracture.1
Judith's presentation illustrates the clinical and radiological features associated with an atypical femoral fracture (see box).1 
 
Box. Clinical and radiological features of an atypical fracture
Clinical:
Female gender
Younger age than patients presenting with a typical neck of femur fracture (mean 74 vs 81)
Higher baseline activity levels than patients with a typical neck of femur fracture
Prodromal symptoms such as groin or thigh ache in the preceding weeks to months
Minimal or no trauma
Antiresorptive use for >3 years (median treatment time 7 years)
Radiological:
Involves the shaft of the femur, rather than the neck of femur
Localised periosteal and endosteal thickening of the lateral cortex
Initially involves a stress fracture in the lateral cortex that may progress medially to become a complete fracture
A fracture that is substantially transverse in its orientation
Non- or minimally comminuted

Any patient who has been on an antiresorptive agent for more than three years and presents with hip/thigh pain should have an X-ray that includes the hip joint and femoral shaft.2,3
If X-rays are inconclusive or further evaluation is required, other imaging modalities to consider include MRI, CT or bone scan.2,3 
If an atypical femoral fracture or 'stress reaction' is seen, antiresorptives should be discontinued.
The risk of atypical femoral fracture decreases in the order of 70% each year after stopping bisphosphonates.4
The risk reduction after stopping denosumab is yet to be quantified. 
Calcium and vitamin D intake should also be optimised.5 
The presence of a radiolucent line defining a femoral stress fracture is a key indicator of high risk for an incomplete atypical femoral fracture progressing to a complete fracture.6
This has been referred to as the 'dreaded black line'. 
Patients with this finding on X-ray should be managed with prophylactic surgery.5
In the absence of the dreaded black line, an incomplete atypical femoral fracture with minimal pain can be managed conservatively with appropriate analgesia, physiotherapy and reduced weight-bearing.5 
However, if pain worsens or if there is no radiological improvement in 2-3 months, surgery may be needed.
The preferred orthopaedic intervention is a long intramedullary nail, as endochondral repair is often not achievable with a plate.5
Complications seen with complete fracture — such as delayed union, non-union and implant failure — are infrequent with prophylactic surgical fixation.5 
Teriparatide is a parathyroid hormone analogue found to stimulate bone formation.
It may enhance fracture healing and analgesia, and may have a role in both complete and incomplete atypical femoral fracture management.5,7,8
Cost and PBS restrictions limit its availability. 
Finally, there is a high risk of developing atypical femoral fracture in the contralateral limb in patients with a femoral stress fracture or atypical femoral fracture. 
Therefore, both hip and femurs should be imaged at presentation and at follow-up.5 
---
Dr Darren Vaotuua is a resident medical officer and Dr Ruth Devin is a general physician and geriatrician. Both work at Sunshine Coast University Hospital, Queensland.
References on request.
Login to see the rest of this article