What's behind this mum-to-be's bowel problems?
A pregnant patient presents with chronic diarrhoea and other gastrointestinal complaints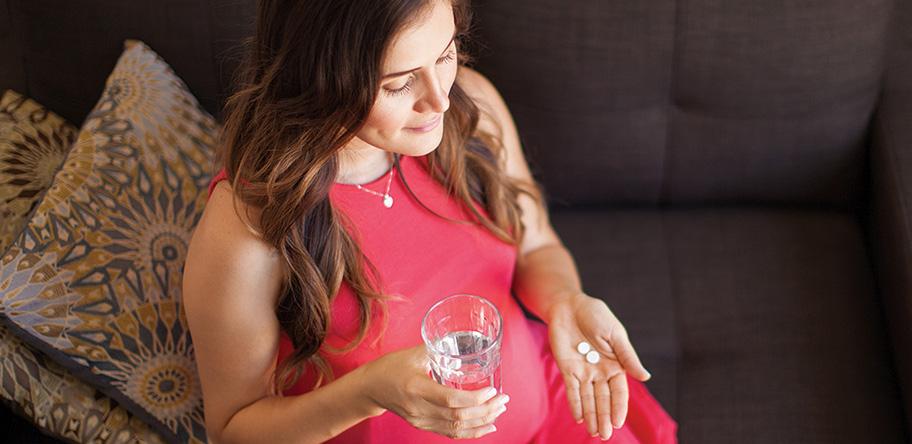 Janine, a 34-year-old woman, was referred at 31 weeks' gestation for review of intrapartum nutrition.
Janine underwent a Roux-en-Y gastric bypass four years ago and an emergency laparotomy for an ischaemic Roux limb at 16 week's gestation.
Janine had chronic diarrhoea both before and after her recent surgery. She reported experiencing an average of 10-12 bowel motions per day.
She was referred to see a gastroenterologist who diagnosed pancreatic insufficiency secondary to a combination of her gastric bypass, pregnancy hormone effects and altered motility.
She had also received erythromycin to treat an organism identified in a previous vaginal swab, which may also have exacerbated her diarrhoea. Janine's gastroenterologist prescribed pancreatic enzymes and referred her to a dietitian for further input.
Janine also had extensive oedema, which made assessment of her pregnancy weight gain difficult.
She was seeing an obstetrician regularly and he had excluded thyroid disorder, diabetes and hypertensive disease of pregnancy as a cause of her symptoms. Her antenatal progress had been good and her baby was growing well.
Dietary history revealed that Janine was eating well, but was not meeting the recommended protein intake for post-bariatric surgery patients.
Investigations
General biochemistry was requested, in addition to specific analysis for micronutrient deficiencies, including vitamin A, vitamin D, iron studies, vitamin B12, folate and vitamin B1.
Significant nutritional deficiencies were identified, including vitamin D, selenium and vitamin A.
Discussion
Although Janine's is an extreme case, it highlights the importance of comprehensive follow-up of pregnant women who have had weight-loss surgery.
Protein requirements are significantly higher in patients post-bariatric surgery and are higher again during pregnancy.1 In Janine's case, the low dietary protein was likely contributing to her oedema.
Detailed micronutrient investigations are warranted in pregnant patients who have had bariatric surgery, particularly those who have undergone procedures that have a malabsorptive component, such as Roux-en-Y gastric bypass.2
The most common adverse fetal and neonatal outcomes related to maternal micronutrient deficiencies post-bariatric surgery include visual complications (vitamin A), intracranial haemorrhage (vitamin K), neurological and developmental impairment (vitamin B12), and neural tube defects (folate).3
It is reported that vitamin A deficiency occurs in around 10% of cases after gastric bypass.4 Supplemental vitamin A is best given orally, but can also be administered intravenously or intramuscularly.
The NHMRC recommends a maximum dose of 10,000 IU vitamin A during pregnancy.5
However, there is a lack of clear recommendations about dosing requirements for pregnant woman with vitamin A deficiency after bariatric surgery.
Given the risk of teratogenicity with excess vitamin A during pregnancy, consider specialist input before starting any vitamin A supplementation.
Selenium deficiencies have been found to result in miscarriages and damage to the immune and nervous systems of the fetus.6
Severe vitamin D deficiency can cause rickets and increases the risk of other obstetric complications, including pre-term delivery, gestational diabetes and gestational hypertension.7
It is also important to note that patients who have undergone weight-loss surgery have significantly higher folate requirements. Folic acid supplementation at a dose of 4mg a day should be started, prenatally if possible.8
Management
After further discussion with Janine's gastroenterologist, she was started on a bile acid sequestrant to reduce her oedema.
Her intake of pancreatic enzymes was modified so that they would be better absorbed. Janine was instructed to take pancreatic enzymes with every meal and snack.
To activate the granules prior to consumption and aid absorption of the enzymes, Janine was also advised to remove them from their casing and dissolve them in alkaline bicarbonate soda mixed with a small amount of water for 20 minutes prior to ingestion.
This was required as her transit time was so fast.
Janine was also instructed to start a bowel chart and a food chart and advised how to document these.
The dose of her pregnancy multivitamin was doubled and she was recommended to start high-dose folate and vitamin D.
She was started on high-protein energy supplements plus additional protein powder.
Janine was also educated about the importance of eating small, regular meals throughout the day, and about not drinking while eating as this can exacerbate osmotic diarrhoea.
The patient also complained of excessive thirst (likely as a result of her diarrhoea). So she was started on electrolyte drinks to assist with rehydration.
Progress
On review, Janine had significant improvement of her bowel motion frequency, which had reduced to around 5-6 times per day.
Her oedema had also significantly improved. Now relatively stable, Janine is waiting to deliver her son via caesarean section in two weeks time.
Learn more about nutrition management in bariatric surgery and Earn CPD points
---
Melanie McGrice is an advanced accredited practising dietitian in Melbourne, Victoria.
References on request.
Login to see the rest of this article