Pregnancy weight gain - getting it right
Excessive or sub-optimal weight gain in pregnancy can have significant adverse effects.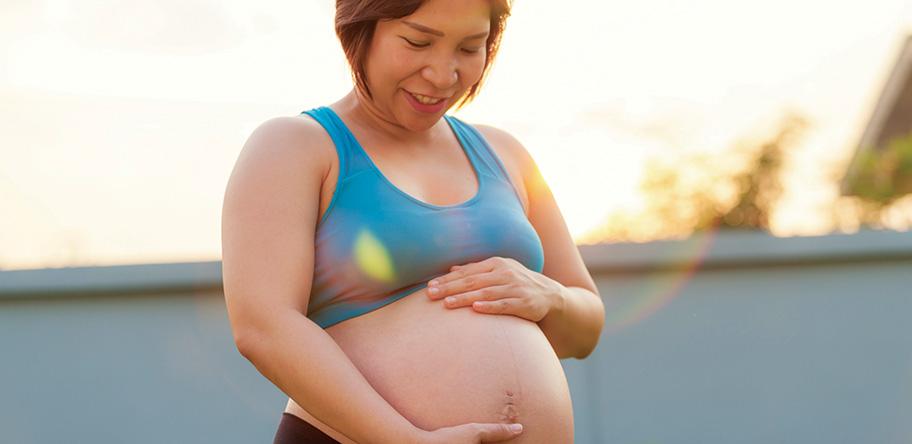 Women of reproductive age are a high-risk population for the development of overweight and obesity, and childbearing has a significant influence on weight gain.1
Risk factors for weight gain during childbearing years include high preconception BMI and excessive gestational weight gain, which hinder return to a healthy BMI post-partum.
Fifty per cent of women enter pregnancy overweight or obese.
Add to that the fact that pregnant women across the BMI spectrum are at increased risk of excessive gestational weight gain.2
Excess weight gain in pregnancy then perpetuates a cycle of overweight/obesity, excessive gestational weight gain in future pregnancies, and post-partum weight retention.
At the opposite end of the spectrum, sub-optimal gestational weight gain can also have significant adverse effects on maternal and fetal outcomes.
Although less common than excess gestational weight gain, this is nonetheless an important consideration for a healthy pregnancy.
The GP role is vital in prevention and early intervention, both of which are key to stemming the impact of high weight gain on short- and long-term health.
Optimal gestational weight gain
Adequate weight gain in pregnancy is recommended to maximise positive outcomes for mother and infant.
The US Institute of Medicine has published widely used recommendations.3
Recommended gestational weight gain is based on a woman's pre-pregnancy BMI, offering total and weekly rate guidelines (see table 1).
TABLE 1. INSTITUTE OF MEDICINE RECOMMENDATIONS FOR PRE-PREGNANCY BMI
 
 
Women with singleton fetus
Women with twins
 
Weight status
Pre-pregnancy BMI (kg/m2)
Total gestational weight gain range (kg)*
Rate of gestational weight gain in 2nd and 3rd trimester mean (range in kg/wk)
Total gestational weight gain range (kg)
Underweight
<18.5
12.5-18.0
0.51 (0.44-0.58)
Insufficient data to make a recommendation
Normal weight
18.5-24.9
11.5-16.0
0.42 (0.35-0.50)
17.0-25.0
Overweight
25.0-29.9
7.0-11.0
0.28 (0.23-0.33)
14.0-23.0
Obese
≥30.0
5.0-9.0
0.22 (0.17-0.27)
11.0-19.0
*First trimester gestational weight gain (GWG) is recommended to be 0.5-2kg.

The broad international relevance of these recommendations has recently been validated, and they are endorsed by the Royal Australian and New Zealand College of Obstetricians and Gynaecologists.2,4
Epidemiological data outlining gestational weight gain in Australian women are limited.

However, smaller studies indicate that around one-quarter of women gain inadequate weight during pregnancy, at least 40% exceed recommendations, and just one-third of women meet recommendations.5-7 This is similar to international data.2
A significant proportion of women exceed gestational weight gain recommendations early in their pregnancy; one study identified that 10% of women had reached or exceeded their total recommended gestational weight gain before their hospital booking visit.5
Consequences of inappropriate gestational weight gain
Compared with adequate gestational weight gain, gaining weight below recommended limits is associated with higher risk of delivering a small-for-gestational-age (SGA) infant, and a lower risk of a large-for-gestational-age (LGA) or macrosomic infant.2
Gestational weight gain above recommendations is associated with a lower risk of having a SGA infant or pre-term birth, and a higher risk of having an LGA or macrosomic infant, and caesarean delivery.
Mothers with excessive gestational weight gain may also be at risk of hypertensive disorders of pregnancy ational diabetes.3,8
Excess gestational weight gain is associated with short- and long-term post-partum weight retention.9,10
Women with excess gestational weight gain retain 3.15kg more, on average, than women with optimal gestational weight gain.9
Women with excessive gestational weight gain add 3.78kg/m2 to their BMI in the 21 years post-partum.9
Furthermore, independent of pre-pregnancy BMI, excess gestational weight gain is associated with offspring obesity in the first 1000 days after birth, throughout childhood, and into adulthood.11,12-14
Early pregnancy weight gain is important in the development of post-partum weight retention and offspring obesity.15,16
This is possibly because it is strongly predictive of total gestational weight gain, as well as for increased rates of gestational diabetes mellitus, LGA and macrosomia.17
Intervention strategies for promoting healthy gestational weight gain
While preventing inadequate gestational weight gain is important for reducing the risk of adverse infant outcomes, there are no proven effective interventions.
Pragmatic approaches support monitoring and advising mothers on healthy weight gain and managing nausea.
Interventions to prevent excessive gestational weight gain are well established.
Lifestyle intervention (predominantly diet and/or physical activity) is the most common preventive strategy.
Such interventions successfully reduce the risk of excessive gestational weight gain by 20%.18,19
This is not affected by pre-intervention BMI, parity, ethnicity, age, or underlying medical conditions. The efficacy of diet, physical activity and mixed approaches is comparable.
The optimal specific strategies for eliciting behavioural change in antenatal interventions are not yet clear.
However, providing information on the consequences to the individual (for example, informing the mother of the risks of excessive gestational weight gain based on her BMI), behavioural goal setting (such as setting a goal to eat five serves of vegetables a day), self-monitoring (for example, tracking vegetable intake at home), providing rewards contingent on successful behaviour (including, praising the mother for eating vegetables), and motivational interviewing (supporting the mother to become self-motivated to make lifestyle changes) have been shown to be effective.20-23
Other strategies for promoting healthy gestational weight gain include weight gain monitoring and addressing psychosocial wellbeing.
While less evidence is available to make strong conclusions about the efficacy of these approaches, they both have promise and should be considered in conjunction with traditional lifestyle interventions.24-27
Weight gain monitoring during pregnancy is reported as acceptable by women and involves plotting weight on a specialised chart with BMI-specific Institute of Medicine recommendations superimposed to track progress (figure 1).28
Figure 1. Gestational weight gain tracking chart for all BMI categories (With legend below).
Click to expand:




With regards to psychosocial wellbeing, causes for concern include maternal depression, anxiety or stress, poor body image, physical symptoms of pregnancy, poor sleep quality, and poor self-efficacy or motivation to change behaviours.29,30
By addressing these factors, women may be more able to implement lifestyle change to promote healthy gestational weight gain.25
Furthermore, interventions delivered by primary care providers offer the benefits of convenience, reduced barriers to access, and ability to individualise care.31
Gestational weight management in general practice
Viewing pregnancy as a phase in the care of reproductive-aged women is essential to achieving healthy gestational weight gain goals.3,32
Optimising healthy gestational weight gain during pregnancy by monitoring weight gain, encouraging healthy lifestyle and encouraging ongoing physical activity is proven to reduce gestational weight gain and improve health.
Promoting return to healthy weight in the post-partum period will also assist with weight control in subsequent pregnancies and beyond (see box 1).
BOX 1. GP CHECKLIST TO PROMOTE HEALTHY GESTATIONAL WEIGHT GAIN
Support all women of reproductive age to achieve or maintain a healthy weight status before, during, and after pregnancy with the help of this checklist.
Pre-conception:
Inform women of their optimal BMI.
Deliver diet, physical activity, or other lifestyle advice.
Monitor psychosocial risk factors such as depression, anxiety or stress symptoms, body image concerns, and sleep problems.
Pregnancy confirmation visit:
Measure height and weight, compute BMI (kg/m2) and advise women of gestational weight gain appropriate for their MBI. Plot on a gestational weight gain tracking chart.
Inform women of the risks of excessive gestational weight gain in the context of their BMI and lifestyle.
Provide lifestyle advice to pregnant women appropriate to their needs. Discuss goal setting, self-monitoring fo behaviours, and rewards for achieving behavioural goals. Make a timely follow-up appointment if needed.
Throughout pregnancy:
Weigh pregnant women (and plot on gestational weight gain tracking chart) regardless of the reason for the visit
Continue to monitor and reinforce diet, physical activity, or other lifestyle advice; discuss goat setting, self-monitoring of behaviours, and rewards for achieving behavioural goals.
Monitor and address psychosocial risk factors.
Employ healthy conversation or motivational interviewing techniques to help women develop self-efficacy to engage in healthy lifestyle behaviours (see box 2)
Refer women to specialists and/or enlist the help of allied health professionals or a practice nurse to share the burden of care.
Post-partum period:
Support a return to healthy BMI and treat inter-conception as a new preconception phase.

It is important to engage with women early in their pregnancy around healthy lifestyle conversations and appropriate gestational weight gain.
As the GP often confirms pregnancy, there is scope to provide early pregnancy advice on gestational weight gain: advise women to gain 0.5-2kg in the first trimester of pregnancy and around 200-500g per week thereafter (table 1 outlines precise gestational weight gain recommendations according to BMI).
It is difficult to prescribe specific recommendations for energy requirements during pregnancy because of women's diverse biological responses to pregnancy, lifestyle and needs.3
However, the Australian Dietary Guidelines recommend adult pregnant women increase their daily intake from the grains/cereals food group from 6 serves to 8.5 serves per day and increase their intake of protein-rich foods from 2.5 serves to 3.5 serves per day.33 All other food groups remain unchanged.
Notably, it is not necessary to 'eat for two' and the increased energy requirements of pregnancy are modest, with an extra 1400kJ/day and 1900kJ/day recommended during the second and third trimesters, respectively.34
Advice such as abstaining from exercise is also out-dated; women should aim to meet the Australian Physical Activity Guidelines of at least 150 minutes of moderate intensity activity or 75 minutes of vigorous activity per week (or a combination of both) unless contra-indications are present.35
Women who remain active throughout pregnancy have better birth outcomes.
Healthcare providers often report difficulty in discussing weight or lifestyle advice with their patients due to lack of time, poor rapport, stigma, or inadequate knowledge or training.36-38
Box 2 contains some tips for initiating healthy conversations.
BOX 2. TIPS FOR INITIATING HEALTHY CONVERSATIONS
Identify and create opportunities to hold 'healthy conversations'
Use open-ended 'open discover' questions, eg, 'What have you tried?' 'How could you change this?'
Focus on small steps
Reflect on practice
Listen more than talk
Support individualised goal setting
Adapted from Black et al, 20144012, and Kahan and Manson, 20173814.

Women receiving pregnancy care from an obstetrician or midwife may benefit from GP support regarding appropriate gestational weight gain and maintaining a healthy lifestyle during visits for other reasons.
This is particularly important since many obstetricians and midwives still do not weigh pregnant women and their time may be taken up by other aspects of clinical management of the pregnancy.39
Furthermore, GPs participating in shared care can continue to monitor gestational weight gain throughout pregnancy and provide appropriate feedback and/or lifestyle advice.
Helping women meet gestational weight gain goals may help reduce post-partum weight retention and facilitate the prevention of inter-conception and lifelong weight gain. 
Related Therapy Update: Overcoming obesity
KEY MESSAGES
Excess weight at conception is increasing with adverse fertility, pregnancy and long-term health implications with opportunities for intervention and prevention in primary care.
Excess gestational weight gain is highly prevalent with adverse pregnancy and long-term health implications.
Excess gestational weight gain often occurs before hospital visits, therefore primary care engagement in advising on and monitoring healthy weight gain early and throughout pregnancy is important, with opportunities for intervention and prevention in primary care.
Online Resources:
Health Canada
University of Auckland
Better Health Channel
---
Dr Hill is a NHMRC Early Career Fellow.
Professor Skouteris is a Monash Warwick Professor of Healthcare Improvement and Implementation Science.
Professor Moran is a dietitian and National Heart Foundation Fellow.
Professor Teede is an endocrinologist and NHMRC Practitioner Fellow.
References on request.
Login to see the rest of this article