A right mesh - what's left for stress incontinence?
The controversy over vaginal mesh has seen manufacturers withdraw tape products as well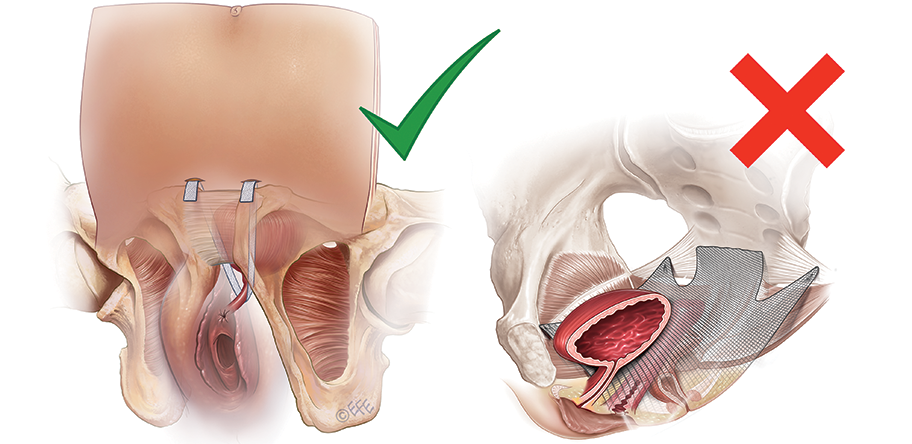 Figure 1. Tapes (Yes), Mesh (No).
It would seem rare in medicine to be able to summarise the future prospects of two separate classes of active surgical therapies with a simple yes or no. 
However, that appears to be the situation with mid-urethral tapes for female stress urinary incontinence and transvaginal mesh for pelvic organ prolapse surgery (see figure 1 above). 
Mid-urethral tapes have been in use for more than 20 years and transvaginal mesh for more than 10 years.
Both have been used in pelvic floor surgeries that attempted to advance efficacy for their respective clinical indications, hopefully with low complication profiles. 
These therapies have been in the spotlight recently, thanks to extensive publicity generated from class actions and public enquiries around the world that related to complications from transvaginal mesh surgeries. 
However, the media has tended to link the two classes of product under the same title of "vaginal mesh".
This means the general medical community, like the general public, might not always appreciate that there is a significant difference between these two approaches. 
Mid-urethral tapes have been proven to improve symptom relief in stress urinary incontinence for minimal complications.
Those mid-urethral tapes without sufficient clinical evidence or regulatory adherence are set to be discontinued. 
Yet, in the case of transvaginal mesh, only limited improvements in efficacy for pelvic organ prolapse, restricted to the anterior vaginal compartment only, have been achieved.
But the complication profile has been unacceptable, leading Cochrane reviewers to conclude that the limited proven benefits are insufficient to justify its use.1
The TGA reached an evidence-based and differential verdict in November 2017, which was updated on 17 January 2018.2
It's verdict states that certain mid-urethral tapes have a clear and confident future in the country, but transvaginal mesh does not. 
The New Zealand Government has made similar announcements.3 
It is important for practitioners and patients to understand that on the basis of clear evidence, mid-urethral tapes are efficacious and safe in competent and experienced surgical hands
But transvaginal mesh does not have sufficient proven efficacy to justify the associated complications. 
Terminology
The International Continence Society and the International Urogynecological Association  have been proactive in defining all the terminology related to the insertion of prostheses and grafts in female pelvic floor surgery (see box 1).4
Box 1. Definitions in pelvic floor surgery
Prosthesis is defined as a "fabricated substitute to assist a damaged body part or to augment or stabilise a hypoplastic structure". 
Two key related definitions are:
Tapes (Slings): A flat strip of synthetic material. This term is used for incontinence surgeries using synthetic materials.
Mesh: A (prosthetic) network, fabric or structure with open spaces or interstices between the strands of the net. This term is used for prolapse surgeries with synthetic materials.
Transvaginal mesh: Mesh inserted through a vaginal approach. Intra-abdominal mesh can be used for some pelvic organ prolapse surgeries. 

The major differences between tapes and mesh are the volume of synthetic material (relatively small in the case of tapes) and the much more defined positioning of the tapes. 
Specifically, tapes are placed in a mid- and sub-urethral location (see figures 2 and 3) whereas mesh use for pelvic organ prolapse can be placed variably in anterior or posterior vaginal locations using a vastly greater amount of synthetic prosthesis (see figure 4).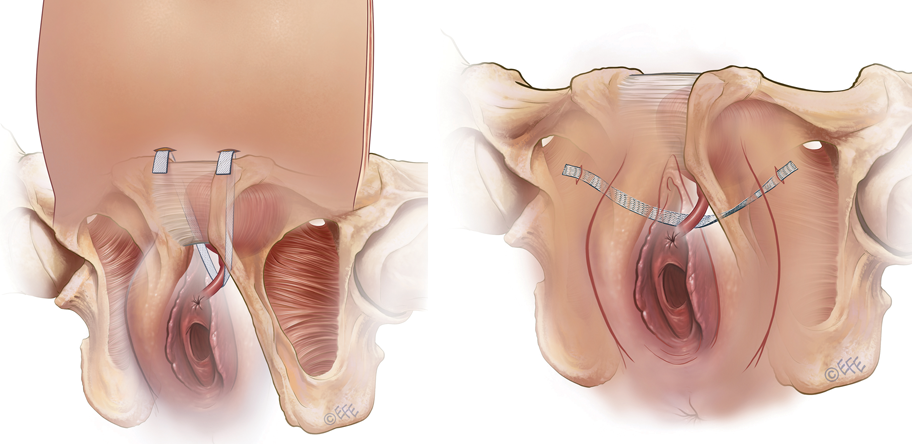 Figure 2 (Left). Mid-urethral tape – retropubic.
Figure 3 (Right). Mid-urethral tape – transobturator.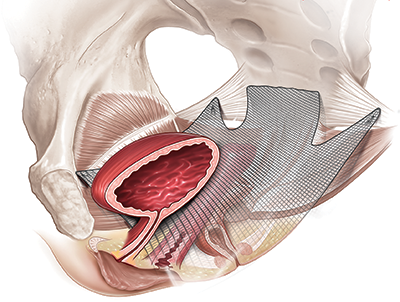 Figure 4. Transvaginal mesh.
 
Mid-urethral tapes 
The introduction of the mid-urethral tapes has revolutionised female continence surgery. Tapes have been proven to be efficacious and associated with minimal complications.5-7 
The minimally invasive nature of the procedure also lends itself to day case surgery. These features have allowed greater access to treatment for older patients and those with comorbidities.
Several systematic reviews evaluated the efficacy, complications and re-intervention rates of the mid-urethral tapes compared with open bladder neck suspension (colposuspension, see figure 5), the main surgery previously used.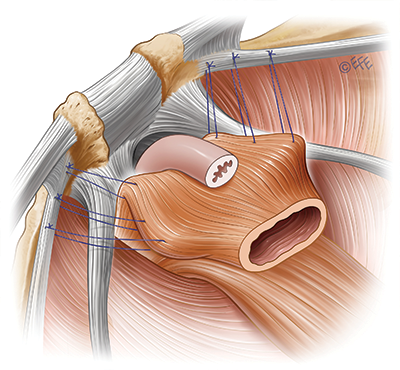 Figure 5. Colposuspension.

These have demonstrated tapes have comparable or higher overall objective cure rates. 
Mid-urethral tapes also involve shorter operative time and fewer post-operative de novo voiding issues or overactive bladder symptoms.5-8 
Bladder injuries can occur with tape insertion, however, these are generally of no consequence if recognised at cystoscopy, which is routinely performed during tape procedures.
Mid-urethral tapes are the most extensively researched surgical treatment for stress urinary incontinence in women and have a good safety profile.8
It has become the operation of choice for female stress urinary incontinence in the UK, US and Australia.9-11
---
---
What if mid-urethral tapes become unavailable?
The title of this section might seem incongruous, given the evidence in support of mid-urethral tapes for stress incontinence. 
However, the recent TGA update included the announcement that the number of available tapes would be restricted. 
In particular, the use of shorter tapes (or mini-slings) will not be allowed going forward due to "a lack of adequate scientific evidence for benefits over risks of use".2 
In 2017, the TGA also requested that manufacturers provide updated instructions for use and adverse event information for existing products, including mid-urethral tapes. 
As a result, some of the most commonly used tapes are on hold, effective from 17 January this year. According to RANZCOG, it is likely these products will be unavailable for most of 2018.
This means that many gynaecologists will not have access to a proven product, their tape of choice, with which they have the most experience. 
Any jurisdiction considering more restrictive action on mid-urethral tapes needs to bear in mind that none of the alternate options for stress urinary incontinence are as good as mid-urethral tapes. 
Two other surgical approaches have efficacy equivalent to around 80-90% success of the mid urethral tapes — retropubic suspension (figure 6) and colposuspension (figure 5).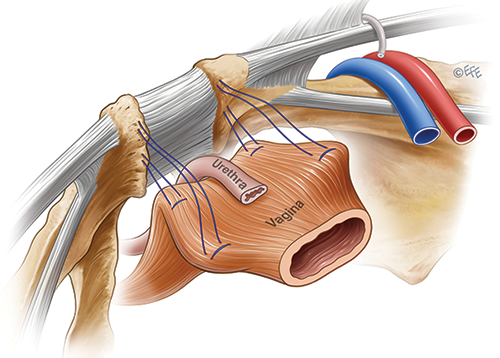 Figure 6. Retropubic suspension. 

However, both procedures are significantly more invasive and are associated with significant rates of de novo pelvic organ prolapse, voiding dysfunction, urgency symptoms and detrusor overactivity.12,13 
Rectus fascial slings (figure 7) are also more invasive and associated with significant rates of voiding dysfunction and urgency, although they have a lower tendency to create prolapse.14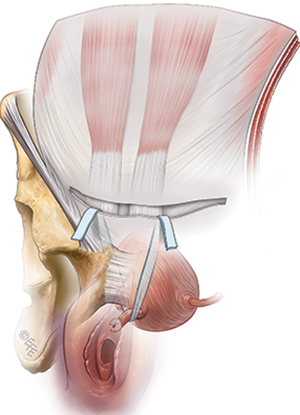 Figure 7. Fascial sling.
Anterior repairs (see figure 8) are minimally invasive, easy to perform, avoid a retropubic dissection and have a low rate of complications.15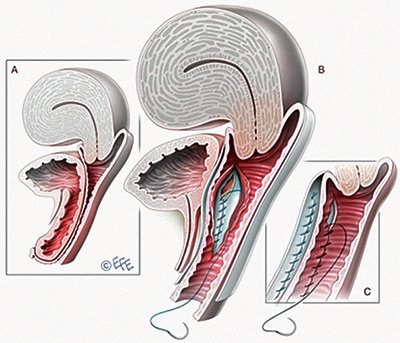 Figure 8. Anterior repair.

However, long-term cure rates are poor and repeat surgery for incontinence is more likely to be required compared with mid-urethral tapes and abdominal approaches.16  
Needle suspensions (see figure 9) have lost favour due to mediocre longer-term success rates, needle complications, voiding dysfunction and their unsuitability with difficult or scarred anatomy.17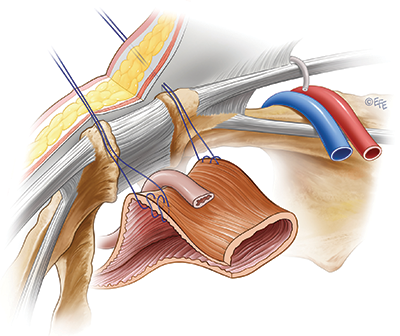 Figure 9. Needle suspension.

Bladder neck injectables and artificial urinary sphincters are not first-line surgical options and have limited applicability.18,19  
No single alternative option is as good as mid urethral tapes or comes close. 
Mid-urethral tapes have high success rates, are minimally invasive, are very suitable for use with pelvic organ prolapse surgery, are associated with low rates of voiding dysfunction and urgency, have low overall complication rates, and are suitable for use with re-do or scarred anatomy. 
Transvaginal meshes 
The commercial use of mesh for pelvic organ prolapse repairs began around 2004.
It was thought that the procedure offered relative safety and efficacy for anterior and posterior repairs (colporrhaphy) compared with the same repairs involving native tissues. 
Complications were seen from the early days of use prompting the US Federal Drug Administration (FDA) to issue warnings in 2008 and 2011 and the development of an international classification of complications of prostheses and grafts.3,20,21 
A similar classification was also deemed necessary for native tissue colporrhaphies.22
A positive outcome of this process has been to "improve the results from native tissue surgery to such a degree that the use of prostheses and grafts is far less indicated".23
The most recent Cochrane review findings with regard to pelvic organ prolapse surgery are as follows:
a. Anterior vaginal wall (compartment) repairs 
With mesh repairs, patients are less likely to report recurrent pelvic organ prolapse.
Repeat surgery for recurrence is also less likely to be required compared with native tissue repairs.
However, there is a higher overall likelihood of any repeat surgery (for stress urinary incontinence, pelvic organ prolapse, mesh exposure) with mesh repairs. 
In conclusion, the current evidence does not support use of transvaginal mesh over native tissue in primary pelvic organ prolapse surgery (anterior compartment) due to an overall increased morbidity associated with mesh and "unproven safety and efficacy".24
b. Posterior vaginal wall (compartment) repairs
There are no recent Cochrane updates about these procedures, although earlier versions reported insufficient evidence to support the use of mesh over native tissues.
c. Vaginal vault prolapse 
The limited evidence does not support the use of transvaginal mesh compared with native tissue surgery for vaginal vault prolapse.
Mesh lacks the appropriate evidence for safety and efficacy.25
What will a future without transvaginal mesh look like?
From January 2018, transvaginal mesh products have been severely restricted or made unavailable in Australia and New Zealand, following similar initiatives in Scotland and many other jurisdictions likely to follow.2-4,26 
Many companies previously supplying mesh products have either ceased offering this option and some have ceased trading. 
Publicity in regards to the complications of the vaginal use of mesh is widespread and intense, with a number of legal proceedings, including class actions, ongoing.
As a result, patient sentiment towards the use of mesh for pelvic organ prolapse surgery is at least cautious and often negative.
The future of transvaginal pelvic organ prolapse surgeries will largely rely on native tissue colporrhaphies with care to examine for and treat vaginal vault defects. 
Fifty-two per cent of anterior vaginal laxity and 55% of posterior vaginal wall laxity relates to vaginal vault descent.27,28 
Effective vaginal vault suspensions such as the sacrospinous colpopexy (see figure 10) and the uterosacral ligament suspension (figure 11) are available to improve the efficacy and longevity of the "basic" anterior and posterior colporrhaphy.29-31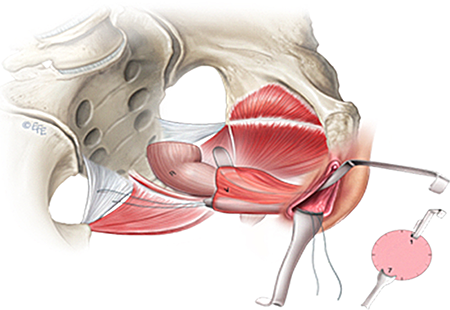 Figure 10. Sacrospinous colpopexy. 
 
Optimising surgical management involves: greater understanding of the sites/relative sizes of the vaginal defects prompting the need for colporrhaphies; greater quantification of those defects, particularly posteriorly and at the vaginal vault; and due attention to optimising the repair at the posterior vaginal introitus (posterior vestibule).28,32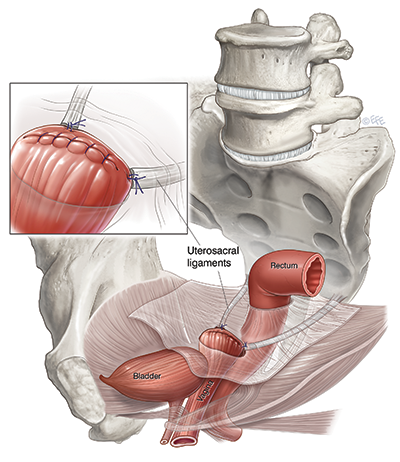 Figure 11. Uterosacral ligament vault suspension.

Conclusion
The ongoing use of retropubic and transobturator tapes are recommended due to their proven safety and efficacy, and the absence of alternate options of similar quality. 
There appears to be no future for transvaginal mesh based on an unacceptable complication profile. 
Effective and reliable transvaginal native tissue pelvic organ prolapse options are available as long as there is due reference to the high rate of cases where a vaginal vault repair might be necessary and the close to 100% need for improved posterior vaginal introital support.
---
Professor Haylen is a conjoint professor at the University of NSW and a urogynaecologist, practising in Sydney, NSW.
The author gratefully acknowledges the contributions of Associate Professor Joe Lee, Dr Angela Cross and Dr Vasukli Sivagnanam to this article, as well as the fine medical illustration skills of Levent Efe, who created the included figures.
References on request.
Login to see the rest of this article